Deutsche G20-Präsidentschaft
G20-Abschlusserklärung und weitere Dokumente
Während der deutschen G20-Präsidentschaft sind eine Reihe von Dokumenten und Erklärungen erstellt und verabschiedet worden. Hier finden Sie eine Übersicht der wichtigsten Dokumente.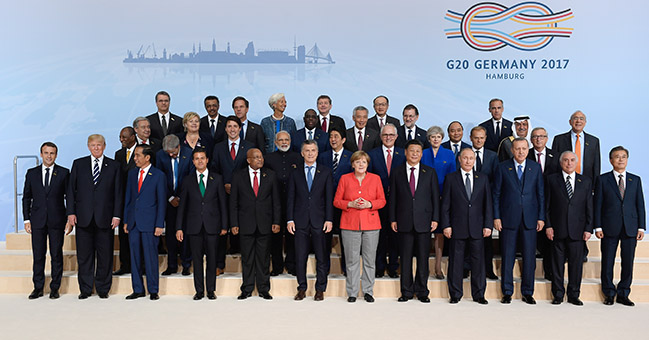 Traditionelles Gruppenfoto der Teilnehmer des G20-Gipfels in Hamburg. Foto: Bundesregierung/Güngör
G20-Gipfel 2017 am 7. - 8. Juli 2017, Hamburg
Abschlusserklärung der Staats- und Regierungschefs
Erklärung zur Bekämpfung des Terrorismus / Statement on Countering Terrorism
Beschlossene Anhänge

Ministererklärungen der deutschen G20-Präsidentschaft
Agrarminister, 22. Januar 2017, Berlin
Finanzminister- und Notenbankgouverneure, 17. - 18. März 2017, Baden-Baden
Digitalminister, 6. - 7. April 2017, Düsseldorf (deutsch / englisch)

A Roadmap for Digitalisation: Policies for a Digital Future
Digital skills in vocational education and training
G20 Priorities on Digital Trade

Finanzminister- und Notenbankgouverneure, 20-21 April, Washington D.C.
Arbeitsminister, 18. - 19. Mai 2017, Bad Neuenahr (englisch)
G20 Priorities on the Future of Work
G20 Policy Recommendation to reduce gender gaps in labour force participation and pay by improving women´s job quality
G20 Policy practices for the fair and effective labour market integration of regular migrants and refugees
G20 Statement on the Global Prevention Inititiative "Vision Zero Fund"

Gesundheitsminister, 19. - 20. Mai 2017, Berlin (deutsch / englisch)
Berliner Erklärung / Berlin Declaration
Minister des Globalen Stahl-Forums, 30. November 2017, Berlin
Bericht des G20 Globalen Forums zum Abbau der Überkapazitäten im Stahlsektor / Global Forum on Steel Excess Capacity Report (englisch)
G20-Arbeitsgruppen-Dokumente
Chair's Summary on the Meetings of the G20 Trade and Investment Working Group
International Financial Architecture Working Group Report
Principles of MDBs' strategy for crowding-in Private Sector Finance for growth and sustainable development

Global Partnership for Financial Inclusion

ACWG Interim Report 2016-17
ACWG Guide on Requesting International Cooperation in Civil and Administrative Proceedings relating to Corruption
ACWG/OECD Compendium Customs Integrity: Taking Stock of Good Practices
ACWG/OECD Compendium of Good Practices on the Publication and Reuse of Open Data for Anti-coruption across G20 Countries: Towards data-driven public sector integrity and civic auditing
Berichte Internationaler Organisationen
Samstag, 8 Juli 2017