Country portrait
Senegal
General information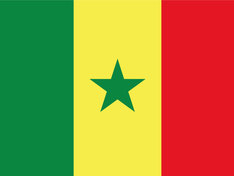 Flagge von Senegal / Flag of Senegal Photo: Bundesregierung
Senegal (French: République du Sénégal) is a country on the west coast of Africa which stretches from the Sahara in the north, where it borders Mauretania, to the edges of the tropical rainforest in the south, where it borders Guinea and Guinea-Bissau. It is bordered by Mali in the east. The southern regions of French-speaking Senegal, the Casamance, are separated from the rest of the country by the small English-speaking state of Gambia.
Macky Sall, the President of Senegal, holds the chair of the New Partnership for Africa's Development in 2017, an economic development programme of the African Union (AU) whose administrative headquarters are in Midrand in South Africa.
Senegal has a population of some 14.32 million (as at July 2016) on a landmass of 196,712 square kilometres. A total of 43% of the population are below the age of 15. Average annual population growth is around 2.5% (2015). The most important of the around 20 ethnic groups are the Wolof, Serer, Peul, Diola, Toucouleur, Mandingue and Soninké.
The capital of Senegal, Dakar, has a population of just under 3.5 million.
The country's official language is French. Other national languages include Wolof, Serer, Diola, Malinke, Pulaar and Soninké.
Economic data
Gross domestic product (GDP) per capita, based on purchasing power parity (PPP): USD 2,577
Nominal GDP: USD 15 billion
Real change in GDP between 2010 and 2015: 30.6%
Gross national debt as a percentage of GDP: 57.4%
Percentage of women (aged 15–64) in gainful employment:
Youth employment rate (15-24 year-olds): 13.2% (ILO estimate)
The national currency is the CFA Franc/exchange rate: 1 EUR = 655.5950 CFA Franc
Additional information
Country information from the Federal Foreign Office
Website of the President of Senegal (in French)