G20 Spouse Programme
From climate to classical music
During the G20 leaders' summit meeting in Hamburg, an attractive programme has also been organised for accompanying spouses and partners. Chancellor Angela Merkel's husband, Joachim Sauer, is acting as host. The programme includes a traditional Senate Breakfast in Hamburg's Town Hall.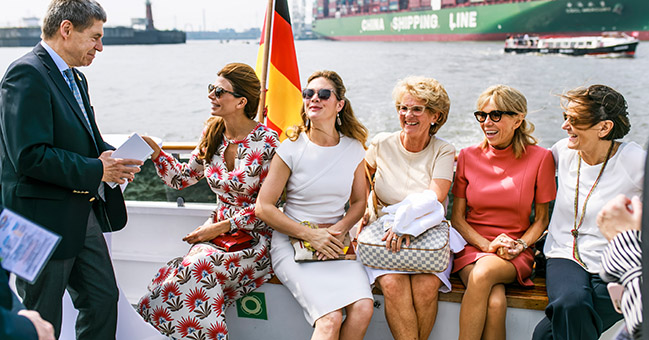 Chancellor Angela Merkel's husband Joachim Sauer and some of the Spouse Programme participants enjoy the boat trip around Hamburg's harbour area Photo: Bundesregierung/Gottschalk
Parallel to the launch of the G20 summit on Friday, the Spouse Programme began. Professor Joachim Sauer, husband of Chancellor Angela Merkel, welcomed the spouses and partners of summit participants as they arrived at Hamburg's new concert hall, the Elbphilharmonie. The group went on to enjoy the best of Hanseatic weather during a one-hour boat trip round Hamburg's harbour area, before mooring at the Dockland in the early afternoon.
Climate change mitigation and Beethoven's Ninth in the "Elphi"
The group lunched together in Hamburg's harbour area, before the programme moved on to focus on climate change mitigation. At a lecture, the spouses of the G20 leaders found out more about the work of the DKRZ, the German Climate Computing Center, which is one of the most important climate research institutes in Germany. Professor Martin Claußen, Director of the Max Planck Institute for Meteorology, and Professor Thomas Ludwig, who heads the DKRZ, provided extensive information.
In the evening the spouses of G20 heads of state and government then attended a concert given by the Hamburg Philharmonic State Orchestra, with conductor Kent Nagano, in the Elbphilharmonie. They enjoyed Beethoven's Symphony No. 9, a masterpiece of classical music.
Saturday began with a visit to Hamburg's Town Hall, hosted by the city's First Mayor Olaf Scholz. After a tour of the seat of Hamburg's State Government, a family photo and a traditional Hamburg Senate Breakfast rounded off the Spouse Programme.
Saturday, 8 July 2017