Meeting of G20 health ministers
Working together to prevent pandemics
Health issues "deserve to be on the G20 agenda in our networked world," Chancellor Merkel said at the start of the meeting of G20 health ministers in Berlin. Strengthening health systems in poorer countries and the fight against antibiotic resistance were the key topics of the meeting.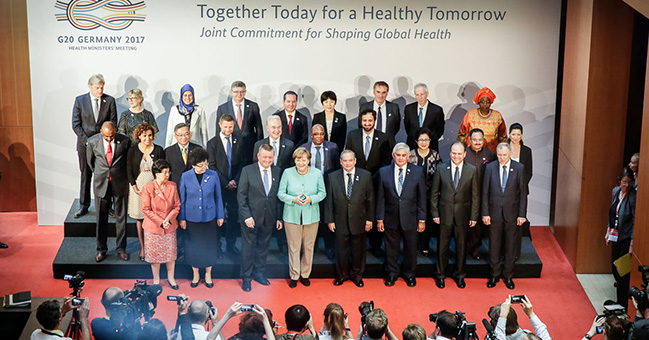 Working together to protect the world against health risks was a key issue at the meeting Photo: Bundesregierung/Denzel
"The fact that global health is to become a constant on the G20 agenda is a strong signal we are sending from Berlin today," said Federal Health Minister Hermann Gröhe at the end of the meeting of G20 health ministers.
The G20 countries also plan to hold regular exercises to prepare for health risks, "because we have to use the time available to ensure we are fully prepared," Gröhe said. The G20 countries' pledge to begin implementing National Action Plans by the end of 2018, to ensure that antibiotics are available only on prescription and to push ahead with research represented an important breakthrough in the fight against antibiotic resistance, he said.
Health systems a "question of humanity"
"I believe that health deserves a place on the G20 agenda in our networked world," Chancellor Angela Merkel said in her opening speech. "It is a question of humanity that every man and every woman should have a fully functional health system to fall back on. To ensure that is the case we urgently need better cooperation, especially when it comes to infectious diseases."
The Ebola outbreak in 2014–2015 and its rapid spread showed clearly that health care provision needed to be expanded in poorer counties, because only well functioning health systems will be able to regionally contain epidemics in the early stages, Margaret Chan, Director-General of the World Health Organization (WHO), told listeners in her welcome address. International solidarity and partnership were needed to achieve that, she said.
The global community needs to be prepared for emergencies. It is quite possible that even prevention measures will not be enough to prevent diseases spreading across borders and continents. Rapid and coordinated action is important in a crisis. Medical staff, materials, mobile labs and sufficient funding need to be available quickly.
Simulating an emergency
A simulation of an emergency chain of action was run at the meeting of G20 health ministers. The scenario: a deadly virus transmitted via the respiratory tract is threatening to spread globally. The ministers of health were joined by representatives of the World Bank and the WHO for the simulation exercise.
The objective of the exercise was to clarify who bears responsibility for what on the ground. The simulation was also used to ensure that information is passed on swifty and aid is available quickly. It also needed to indicate what control mechanisms are needed.
"We can only effectively protect the world and our populations against the next crisis if we practise emergency situations," said Federal Health Minister Gröhe. "The world needs to be better prepared for the health risks we will face tomorrow."
Strong health systems already on the G7 agenda
Global health is not only a central topic of Germany's G20 Presidency. In 2015 the G7, also under Germany's Presidency, pledged to assist at least 60 countries in establishing strong health systems. That list was then expanded to 76 countries during the subsequent Japanese Presidency.
The fight against antibiotic resistance has already been a topic at G7 meetings, too. The Group of Seven have adopted a one-health approach: Whatever applies to the health of humans also applies to the health of animals.
Resolutely fighting antibiotic resistance
The use of antibiotics needs to be significantly reduced in order to effectively combat antibiotic resistance. Especially in livestock farming, antibiotics are often not only used to treat sick animals but also to promote their growth, for instance. The European Union banned such use back in 2006.
In January 2017 the G20 agriculture ministers agreed to permit antibiotics for therapeutic purposes only. Federal Health Minister Gröhe wants to ensure that across the world antibiotics are available for use in both animals and humans only on prescription that must be issued by a trained professional.
"Antibiotics are one of the most important achievements of modern medicine in the fight against infectious diseases and when it comes to safeguarding surgical procedures. Our ability to fight bacterial infections is, however, increasingly being placed in jeopardy or even becoming impossible due to the global rise in especially dangerous pathogens," Gröhe said. "If we do not act now, together and across the world, we are heading for a post-antibiotic era. And that will have dramatic consequences for us all."
Germany taking international pledge seriously
Under the WHO's Global Action Plan, National Action Plans are among the most important measures for minimising antibiotic resistance. Germany is leading the way and has adopted its own Antimicrobial Resistance Strategy. The Federal Government presented an interim report at the meeting of G20 health ministers detailing progress made so far.
Germany advocates further strengthening the WHO given the key role it plays when it comes to containing global health risks. The Contingency Fund for Emergencies, established in 2015, serves precisely that purpose. Germany is the biggest donor to the Fund, having pledged 13 million dollars.
"Germany makes more than 850 million euros available each year to global health issues. The majority of this funding comes from the development budget and primarily serves to provide much needed support to health systems," said Gröhe.
The Group of Twenty is an informal forum of the world's leading industrialised and newly industrialised countries. It comprises 19 countries – Argentina, Australia, Brazil, Canada, China, France, Germany, India, Indonesia, Italy, Japan, Mexico, Russia, Saudi Arabia, South African, South Korea, Turkey, the United Kingdom and the United States – plus the EU.
Saturday, 20 May 2017