G20 Foreign Ministers Meeting
Fighting poverty together
Fighting poverty must be a joint task of the G20, said Foreign Minister Gabriel at a meeting with his official counterparts in Bonn. Crisis prevention, sustainable development and cooperation with Africa should be given greater priority.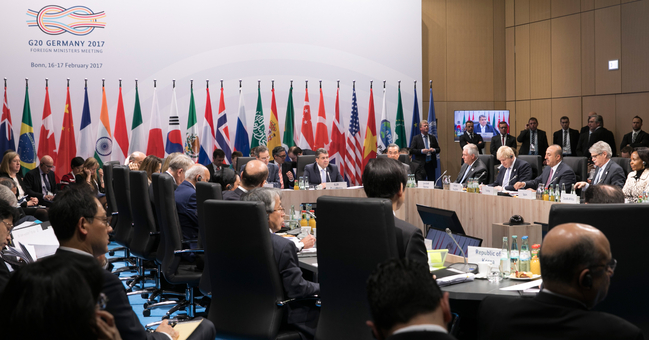 G20 Foreign Ministers in Bonn also discussed crisis prevention and development cooperation Photo: Grabowsky/photothek.net
"Shaping the global order – foreign policy beyond crisis management" is the motto of the G20 foreign ministers meeting in Bonn. With his G20 official counterparts, Federal Foreign Minister Sigmar Gabriel discussed how global crises can be averted before they occur.
The foreign ministers meeting is the second ministerial meeting within the framework of the German G20 Presidency. Agriculture ministers had already met in January. Finance ministers will meet next month. The ministerial meetings also are tasked with preparing the G20 Summit of Heads of State and Government in Hamburg on 7 and 8 July.
Special responsibility for the world
Before the foreign ministers meeting, Gabriel had emphasised that no state could "tackle the big international problems of our time alone." "Terrorism, water scarcity, climate change, migration, displacement and humanitarian emergencies can be resolved not by isolation but through cooperation and joint strategies," said the Minister.
The G20 nations account for about two-thirds of the global population, four-fifths of gross world product and three-quarters of global trade. Consequently, said Gabriel, the G20 bears a special responsibility. Together, the G20 must address the root causes of conflicts, as well as options for peaceful crisis prevention and conflict settlement.
Classic security policy no longer suffices
Combating poverty, said Gabriel, is a priority goal for participants. In this connection, he added, it has become obvious that "nowhere in the world will we attain peace and stability solely by the classic instruments of security policy, much less by defence budget increases."
Of key importance is cooperation of the international community so that people would not have to leave their countries because of war or poverty but would have prospects for a better life at home.
On account of these considerations, said Gabriel, the "link between development cooperation, economic prosperity, social justice and security" was the focus of discussion between the foreign ministers.
To create a stable global order, said Gabriel, "cooperation in areas such as climate change, terrorism, displacement and migration" is needed. These could be "resolved only by multilateral cooperation and openness, not by withdrawing into national shells or circling the wagons."
Focus on Africa
Germany already accorded key priority to development of the African subcontinent during the G7 Presidency in 2015, said Gabriel at the concluding press conference.
In its G20 Presidency, Germany will hold a conference in June devoted entirely to the topic of "partnership with Africa". Africa, underlined the Foreign Minister, faces many challenges but is also "a continent of opportunities and of the future."
Friday, 17 February 2017